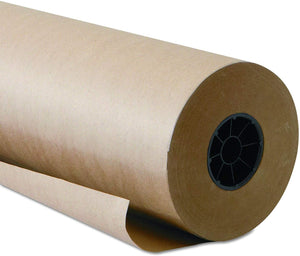 Woodpeckers
Kraft Paper Roll 48 X 1800 Inch - Brown Craft Paper Table Cover Packing Wrapping Paper 2 Rolls
Regular price
$49.99
$49.99
Unit price
per
CLASSIC BROWN PAPER ROLL – If you are looking for a great quality roll of craft paper, this is right for you. The smooth paper is not too thick (Thickness 40#), yet still durable enough to use as wrapping paper, packing paper or as a paper tablecloth roll. This kraft paper roll is an attractive light brown color and is non-coated and wax-free.

100% ECO-FRIENDLY – Use this paper guilt-free and help keep our planet green. This roll of paper is made in the USA from recycled fibers. When you are done with it, recycle once again for a completely eco-friendly experience.

JUMBO SIZE – Buy these rolls now. Use them for the entire season! This brown wrapping paper roll is 48 inches wide and 1800 inches (150 feet) long, big enough to wrap a lot of gifts and cover quite a few tables.

DECORATIVE PAPER – This is the perfect brown paper wrapping paper roll for all your Christmas and year-round gift-giving. Create a charming look by wrapping your gifts in this natural wrapping paper and tying with a simple piece of twine or string. Here's another idea: Roll out this brown paper table cover roll for an easy "tablecloth" that fits right in with your rustic party décor!

PRACTICAL, PROTECTIVE PAPER – Lay out this roll of craft paper to protect your work surface when you paint or glue. Wrap up when you are done for easy, mess-free clean up. Also, this roll of brown paper works well used as shipping paper to protect delicate objects when moving or mailing. Use for all your crafting and sewing needs too!
---